• holiday entertaining • sale • small space • tips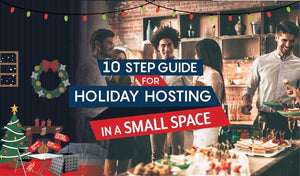 You would love to host your loved ones for the holidays. But your living space can barely contain you, let alone friends and family. This 10-step guide and multifunctional furniture essentials will convert your small space into a cozy, chic space, ready to host your loved ones during the holiday season. The holiday season is well and truly underway. Characterized by get-togethers, socializing, and reconnecting with long-lost loved ones, the season can feel like an entertainment nightmare if you live in a small home. The thought of cramming family and friends into your 800-square foot home – and possibly hosting...
---
• apartments • colours • multifunctional • small space • smart furniture • sofa bed • space limitations • storage bed • table • toronto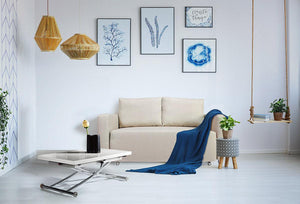 Many people are choosing to live in small apartments. They choose this lifestyle because they spend little time at home or like the freedom it provides them: a smaller space requires fewer expenses, less time for cleaning, allows you to become more efficient, organized, etc. However, when it is time to move to a small apartment it raises questions like: what furniture should I opt for? How can I make the most of my living space? How will I arrange everything I need in my room? How can I decorate my new apartment with my space limitations? But don't worry!...
---
• canada • decorating • murphy bed • small space • space limitations • toronto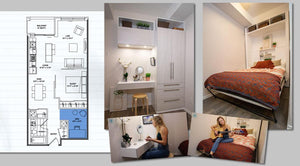 We were very excited to take on this custom wall bed project. Why? It was different than any that we had done prior. The whole process took place through email, screen shares and hopeful WiFi connections. Alysse was on a cruise line at sea working as a performer, while we were here in Toronto taking notes and making things happen. See how we converted her 6' x 9' Toronto Annex den into a multi-functional bedroom/workspace/vanity combination. Alysse has a new space to return to after her work travels and has a fresh take on living more with less. Objective: Convert...
---
• apartments • canada • decorating • dog • pets • small space • sofa bed • space limitations • table • toronto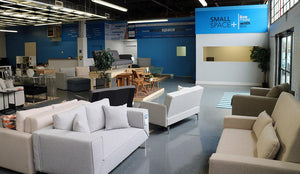 Design District just got Smaller. The new Small Space Plus store brings furniture specially developed for small environments with great functionality and beauty Now located at 126 Tycos Drive in the Castlefield Design District, Small Space Plus have taken everything over the last nine years and have created this new space. With over 7000 square feet of floor space, Small Space Plus has created a place to get inspired with small space living. The goal is to envision loving your space, living smartly and enjoying what life has to offer. What can you do with 98 square feet? The room...
---
• apartments • canada • decorating • dog • pets • small space • sofa bed • space limitations • table • toronto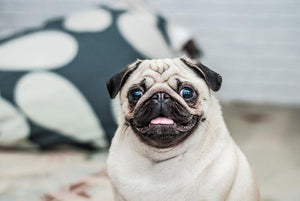 Choosing pet friendly fabric doesn't have to be a difficult task. While we love our furry companions, we could live without the climbing, shedding and scratching that comes with them.  While it's easy in theory to say Garfield will have to learn he's not allowed on the sofa, it'll be next to impossible to follow through.  With the right tools, you'll be able to select upholstery that is durable and ideal for your pets but also beautiful and complimentary to your home. Win-win for everyone! LEATHER  Leather is an optimal choice for living with pets. Whether its genuine or faux, leather doesn't attract pet hair and spills are easily...